Here is a sampling of three of the best free and affordable activities for babies and toddlers in London to keep them happy until the end of July. If you can recommend any other great events or activities for young children in London, please feel free to add a comment and link below!
1. Something's Happening for kids: Fun dance for family audiences
Top of our list is this wonderful new family event featuring interactive dance and circus performances designed especially for young audiences. We are especially looking forward to The Light Garden, commissioned by Sadler's Wells and created by award winning filmmaker Rachel Davies: "Follow animated pebbles by torchlight to reach tents and a smouldering campfire.  Explore a magical cave, a beanbag hillside with crawling ladybirds and learn how to control the weather.  As the sky shifts from dawn to dusk, dancers appear in the moon." As if enchanting performances isn't enough, there will be face painting, stories, music, arts and crafts activities and much, much more. There's a free place to store your bags and buggies, nappy changing facilities and our café will be serving a special children's menu.
When: Saturday July 23rd, from 10:30 a.m.
Where: 17 Dukes Road, London WC1H 9PY (Euston Station) – click for map
Suitable for babies, toddlers, and children of any age. And their parents of course!
How much? £5 per person, or £15 for 4 people (one of whom must be an adult)
2. Fantastic Mr Fox in Holland Park: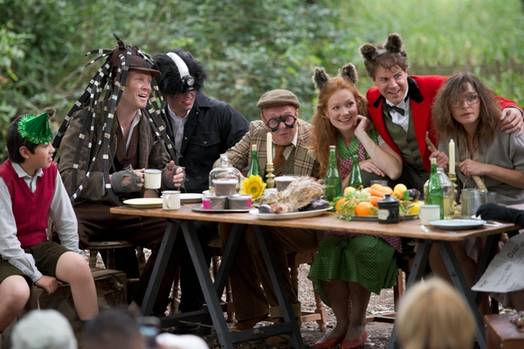 No doubt you've read our review of the fantastic Fantastic Mr. Fox puppet show?  Now's your chance to see a unique children's opera of this classic tale, commissioned to benefit Roald Dahl's Marvellous Children's Charity. Head out to the beautiful gardens of Holland Park with your family and enjoy the show.
When: July 28th & 30th.
Where: Holland Park, West London  – click for map
Suitable for children of all ages.
How much? £2.50 for children, £5.00 adults
3. Gallery Plays at the V&A: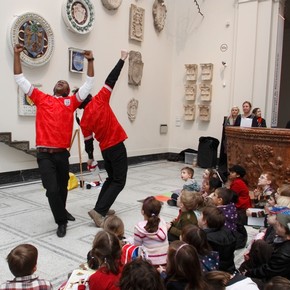 Delightful performances throughout the summer thanks to the Little Lights Theatre Company's work with Museum curators to highlight the important characters involved in the creation of the object, whether it is a member of the Royal Family, a famous artist or designer or just an ordinary person with an extraordinary story. They tell the story of the objects from this personal perspective, bringing an era of history to life along the way. Our favourites are Puppet on a String and Dragons, Lions and Football.
When: Saturdays throughout the summer, 11am/1pm/3pm.
Where: V&A Museum, Cromwell Road, South Kensington – click for map
Suitable for all ages.
How much? Free.
Your recommendations?
We'd love to hear about other free and affordable activities for young children in London. Just leave a comment and a link below!