For grown ups, Christmas time is a flurry of preparations but for kiddies, the holiday is filled with the magic of chocolate calendars, letters to Father Christmas and the hope for snow. To ensure Baby's First Christmas is one to remember, here are three ways to add a little magic to this special festive season.
Start Your Own Family Traditions
Christmas Eve is the perfect day to create a tradition you can repeat year after year with your little one. I asked my family and friends to tell me their favourite Christmas Eve traditions. Here's the list to help you get started this year:
Decorate the Christmas Tree
Visit a Christmas Market
Attend a Christmas Carol Service (or sing by yourselves at home!)
Read a particular Christmas book with grandparents (we love 'Twas the Night before Christmas)
Sit around the tree and share your Christmas memories
Visit close family with Christmas gifts
Set up the nativity crib (but don't put the 3 kings until the 6th January)
Eat Christmas Dinner (yep! Some of my family do this on Christmas Eve instead of Christmas Day)
Open 1 present early (usually "Christmas" pyjamas)
Everyone put on new "Christmas" pyjamas
Hang up the stockings by the fireplace (or at the end of the bed)
Christmas Catch-up with the neighbours
Have a Christmas Photoshoot
Step 1: Choose a Cute Outfit
A reindeer, an elf or a party outfit!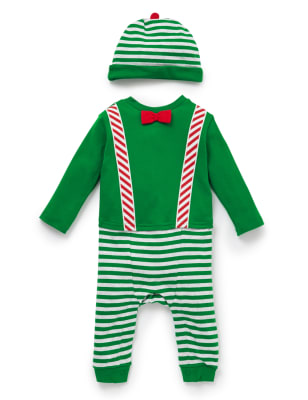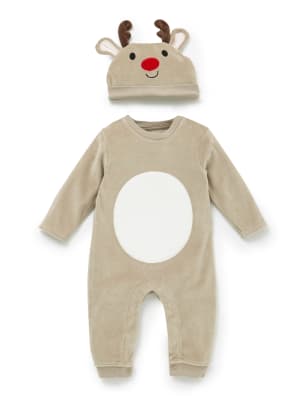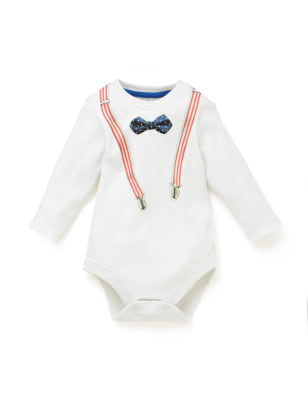 Step 2: Choose a location
Maybe in front of the tree, on your lap, with siblings or perhaps by the fireplace.
Step 3: Set up the pose
Add some christmas lights/decorations around Baby, give them a christmas teddy, or add a big red bow.
Step 4: Take the photos
Be prepared to take a lot of shots – even a sleeping Baby doesn't stay still for long. Try out various angles, poses and maybe even different times of day.
Make a special Christmas craft
For older babies, check out Christmas Cake Sensory Tub, Felt Christmas Tree and LEGO Christmas Decorations.
---
Disclosure: This article is sponsored by Marks & Spencer in celebration of the launch of their gorgeous new Baby range.